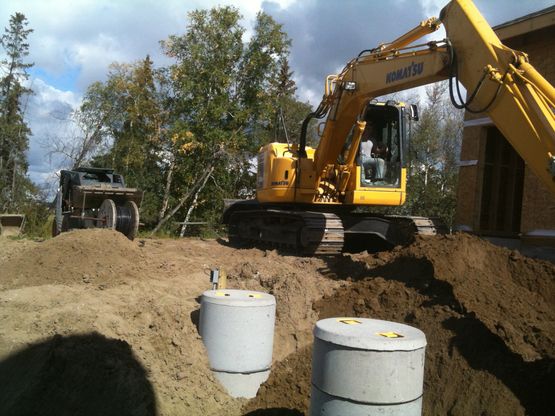 Wastewater Solutions has a variety of septic tank and field designs to best suit your specific needs. We offer single-compartment holding tanks, conventional two-compartment tanks, and even advanced treatment plants. We offer a variety of septic fields as well, including conventional septic fields, pressure distribution fields, at-grade fields and raised fields. Each different type of tank and field has its own advantages and disadvantages. Based on your property type and household needs, Wastewater Solutions can make a recommendation of which tank and field combination would work best for you.
Wastewater Solutions creates septic systems that are purpose-built. There is no "one-size fits all" sewage system. Before even suggesting a sewage system or providing a quote, we like to conduct a site evaluation. This allows us to see the area for ourselves and create a septic system that works best with your budget, property size, grade and soil type.
Common Questions
How much area will a septic installation take up?
Typically when customers ask this question, their main concern is ground disturbance and re-landscaping. Wastewater Solutions installs septic systems using the right equipment to get the job done, keeping ground disturbance to a minimal level. While the area needed for every installation varies based on house size and the property layout, a typical 3 to 4 bedroom house requires an area of about 50' x 100' on average.
Does the size of a household matter for a sewage installation?
Yes! The size of your house and the number of people living in it are very important when it comes to sewage system installation. These numbers give us an idea of how your system will be used and helps us to make recommendations that will work for you. Giving us incorrect information about your household can lead to an improper septic system for your property, leading to sewage backup and malfunction.
How long will the installation take? How long will we be without water and sewage?
Most septic installations are completed in less than three days. Normally, the water is shut off for around 2 hours. We pride ourselves in working efficiently, doing as much preparation and pre-assembly as possible. Doing most of the preparation before we get to the job site allows us to install the sewage system not only quickly, but also correctly without having to scramble to find parts at the last minute.
What kind of equipment do you use?
Wastewater Solutions uses the right equipment for the job. Our equipment is a combination of tracked excavators (track hoes) and wheeled and tracked skid steers. These machines allow us to install septic systems efficiently and with minimal ground disturbance.
How much lead-time is needed? When can you get started?
Typically, a job can be started within two weeks. This allows us time to conduct a site evaluation, pull the appropriate permits and prepare for the installation. In the event of an emergency, we can start a job sooner.
---
Did you know:
When building a new home, most major banks require a valid sewage inspection report prior to advancing your final dispersement on the mortgage.